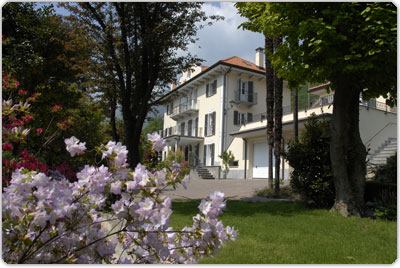 Sistemazione:

3 camere con bagno privato, TV color satellitare, telefono, internet, balcone.

Servizi:

Servizio colazione, cambio biancheria bagni giornaliero, cambio biancheria camere bisettimanale, lavanderia, parcheggio privato, solarium, servizio bike, convenzione ristorante, degustazione prodotti tipici.
Accomodation:

3 bedrooms with private bathroom, satellite TV, telephone, itnernet, balcony.

Services:

Breakfast, daily change of bath towels, biweekly change of bed linen, laundry, private parking, solarium, bikes, special discount on restaurant service.

www.colorisutela.com

Chi oggi arriverà al "B e B Le Camelie" sarà colpito dalla sua splendida posizione, circondato da tutte le cime più importanti dell'Ossola, e dal suo splendido parco. Rallegrato da fiori, fontane e giardini acquatici, ma sopratutto dalla calda e famigliare atmosfera da cui vi sentirete circondati.

Anche l'arredamento interno, sia pure rinnovato e adeguato alle odierne esigenze contribuisce a confermare l'impressione di calore e di eleganza in un ambiente che mantiene inalterato il fascino di inizio secolo.

In particolare molto accogliente è il locale adibito a Breakfast, dove si possono degustare prodotti genuini della terra Ossolana (frutta, marmellate, crostate e tanto altro).

As soon as you reach the "B e B Le Camelie" you will be fascinated by its marvellous position, encircled by the most important mountains of the Ossola Valley, and by its wonderful park. Be cheered up by the flowers, springs and water garden, but above all by the warm and familiar atmosphere that will be surrounding you.

Although they have been recently renewed to meet the current needs the furnishing also give their contribution in confirming the image of friendshilness and elegance in an enviroment that has been able to keep the charm of the early XXI century.

Be fascinated by the comfort of the breakfast room, where you can taste genuine product of Ossola Valley (fruit, jam, tarts and much more...).